In the lead-up to the 2021 NHL Trade Deadline, Maple Leafs General Manager Kyle Dubas swung a couple of deals with his Columbus counterpart; Jarmo Kekalainen, to bring in forwards Nick Foligno and Riley Nash. Bringing Foligno into the fold cost Dubas a 1st round pick in '21, and 4th round picks in '21 and '22. The move garnered criticism at the time and is still regarded as a cautionary tale amongst fans in Leafs Nation given the underwhelming results of that postseason. Shifting our attention to the oft-forgotten Nash reveals a similar story: he only appeared in 2 playoff games for the Maple Leafs and had a minimal impact on either end of the ice.
However, the move was rationalized by the correspondingly minimal acquisition price. Dubas only gave up a conditional 7th round pick, which became a '22 6th rounder after Nash appeared in more than 25% of Toronto's playoff games that season. While Nash was ineffective in his very brief Maple Leafs stint, the fact that Dubas was able to acquire a player who appeared in playoff games at such a low price should be acknowledged as a success, albeit a small one.
Severals reasons can be outlined for why Columbus offloaded Nash for such little draft capital. Firstly, Nash wasn't having the greatest year with only 2 goals and 5 assists in 37 games. The caveat here is the Maple Leafs didn't acquire Nash for his production; he was brought in based on his reputation (and underlying numbers) as a defensively sound fourth-line centre.
Secondly, Nash made his Maple Leafs debut in the playoffs due to a knee injury that held him out for the remainder of the regular season, which hampered his trade value. With a cap hit of $2.75M that season, the Maple Leafs could only fit him under the cap by stashing him on long-term injured reserve (LTIR) until playoff time, where the salary cap disappears. Essentially, Nash only became a Maple Leaf because he was injured. It was a shrewd move by the Maple Leafs' front office that raises the question of whether they would attempt a similar move as the 2023 deadline approaches.
Enter Gustav Nyquist; a forward on the Columbus Blue Jackets (I'm noticing a trend here) who is currently sidelined with a shoulder injury he sustained in late January. Nyquist's status was last updated on February 1st, when the Blue Jackets clarified that he would not require surgery but would miss the remainder of the regular season. It's important to note that Nyquist has been having a better season than Nash did in 2021, having scored 10 goals and 12 assists in 48 games prior to his injury. However, Nyquist's $5M salary is more than insignificant for a smaller market team like Columbus, who might be better served to conserve financial resources and reload for next season.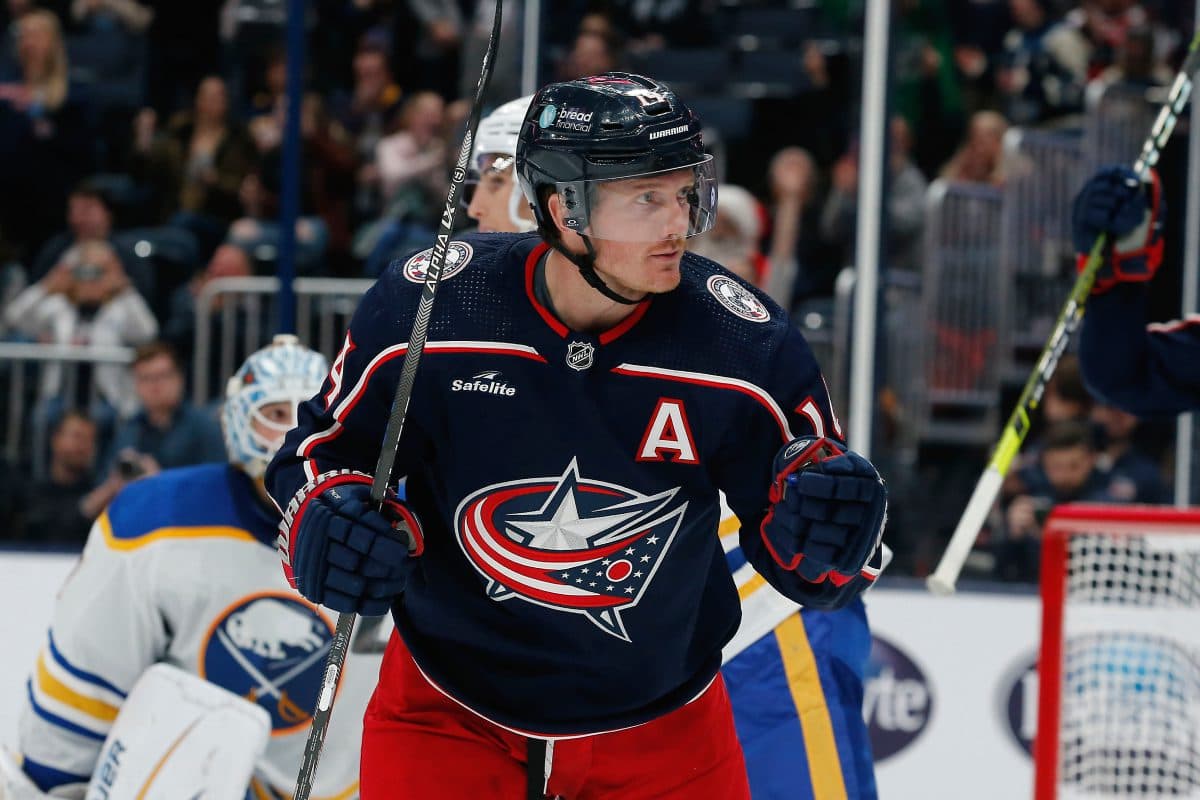 With all of this in mind, a fair price for Nyquist could be a 6th round pick in '23, with the same conditions as the Nash trade (the pick becomes a 5th rounder if Nyquist appears in more than 25% of playoff games). It's a trade that would make sense for both teams. Where Columbus would benefit from shedding salary and the Leafs would acquire another veteran option for the bottom-six.
Aside from Dubas' past success with this type of trade, there's several other factors that would make a Nyquist trade appealing for the Maple Leafs. Goaltender Matt Murray is expected to return from long-term injured reserve before the deadline, leaving the Leafs with ~$1.3M in cap space to work with. While this is usually enough space to add a depth player, the team also needs to consider Matthew Knies' entry-level contract (ELC).
Knies is expected to join the team after the conclusion of his NCAA season and his ELC is likely to be worth $925k per year. In this scenario the Leafs only have ~$400k of cap space to work with. While Dubas could look to acquire a player with salary retention, doing so would likely increase the acquisition cost. In contrast, the Maple Leafs could absorb Nyquist's $5.5M cap hit entirely on LTIR.
Stylistically, Nyquist possesses straight-line speed like Engvall or Kerfoot, but he also has a sneaky shot along the lines of Jarnkrok and Acciari. He can effectively penalty kill and would round out a PP2 unit rather nicely. While Nyquist is not known for his physicality, he isn't afraid to hit. With 2.73 hits/60, he ranks higher than Alex Kerfoot's rate of 2.39 but falls below Pierre Engvall at 3.17. All things considered, Nyquist is a versatile winger that fits the Maple Leafs' mould and would render Zach Aston-Reese a healthy scratch. It's less an indictment of Aston-Reese as it is a testament to how deep a forward group Head Coach Sheldon Keefe would have at his disposal.
Potential Rosters
Maple Leafs roster after Murray returns from LTIR and Knies is signed to an ELC:
Maple Leafs playoff roster (cap and roster size don't apply in the playoffs):
Here are potential rosters for the Leafs after making the move for Gustav Nyqusit.
In conclusion, the final forward position is an area of upgrade and as the playoffs come around, the Leafs need to make sure that they are able to compete against the other titans in the east. The addition of Nyquist might be the move that gives them that slight edge.
Interested in watching live sports? Check out fuboTV! Click here to get access!
Craving more hockey content? Check out our premier hockey podcast on our youtube channel!