After the departure of Zach Hyman from the Maple Leafs top six forward group, General Manager Kyle Dubas had to find the perfect fit for his team to replace Hyman. One year later, we can see that Dubas found the perfect fit in Michael Bunting.
Though Bunting could benefit from playing top line minutes with some of the best offensive producers in in the league, his stats show great value and he will almost be guaranteed to get a large pay increase in the next off season. But until then he likely plays a large value role on his cap crunched team.
The left winger is currently 27 years old making 950k for one more year. This pay sets him at 1.2% of his team's cap. Last season he had 23 goals, 40 assists, for a total of 63 points. However for under $1m the value per point was incredible, especially as he took under 1.5% of his team's cap hit.
In regards to other players that scored around Bunting's scoring numbers, he by far takes up the least mount of his team's cap hit.
| | | |
| --- | --- | --- |
| Name | Cap Hit | Cap Hit Percentage |
| Mikael Granlund | 5,000,000 | 6.1% |
| Tomas Hertl | 8,137,500 | 9.9% |
| Jeff Skinner | 9,000,000 | 10.9% |
| Clayton Keller | 7,150,000 | 8.7% |
| Ryan Johansen | 8,000,000 | 9.7% |
| Michael Bunting | 950,000 | 1.2% |
(Statistics Credit: Capfriendly)
As previously stated, one key aspect to keep in mind is that Bunting is not the main driving force of his line, unlike many other players on the list, and instead benefits from playing with strong line mates. However, the value presented here is still incredible.
Based on these point totals, Bunting is providing roughly 5x-6x more value per dollar then these other elite NHL forwards on a strictly point basis.
Another key aspect to watch out for when looking at Michael Bunting's value is expected goals during 5v5 ice time.
By filtering out special teams involvement, we can see that Bunting is among the league's highest scorers when it comes to normal 5v5 play, only trailing behind teammate Auston Matthews and the league's best Connor McDavid.
This stat measures is that expected goals a player would score given the probability of the quality of shot. As we can see here, that Bunting is amongst the league's best when it comes to taking favorable opportunities.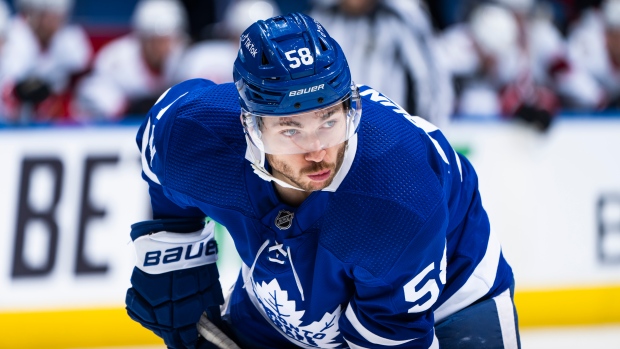 In conclusion, Michael Bunting brings serious value to the Leaf's offense, and since his contract is expiring after this year, he will likely get a drastic pay raise, that equates to the value he is currently providing.
Hopefully the Leafs can make the most of Bunting this season, especially while he is on a team friendly deal.
Interested in watching hockey and other sports? Check out fuboTV! Click here to get access!