The 2022/23 Serie A season is finally here, and why not take a look at what these teams will be rocking weekly as BD Sports looks at this season's five best Serie A home kits.
Let us know if you agree or disagree in the comments below!
#5. Cremonese (Sponsor: Acerbis)
This season marks Cremonese's first time back in the Serie A since 1995-96 when the club experienced a run of seasons in the Italian top flight and this kit is inspired by the shirts worn by the club during their run.
Il Grigiorossi (the gray and reds) design takes us back to a time back in the early 90's when many kit designs were more outgoing and reflected the city and culture they came from and this homage to their roots is well deserving of a spot on this list.
One wouldn't typically consider a kit design with gray and red as their primary colours to be a good choice when designing a fashionable kit for the players and fans to wear, but Acerbis is able to blend a more modern design with a vintage look, while also managing to make their rather unconventional logo pop.
Huge props for also including a collar, which has slowly been fazed out of most modern kit designs.
Cremonese might not last too long in the Serie A, but at least they will arrive and potentially leave in style.
#4. Hellas Verona (Sponsor: Macron)
Hellas Verona recently changed their logo from their shield design to a more modern design of their Mastini (Mastiffs) on their logo as the Gialloblu (yellow and blues) come into this season with a fantastic home kit.
With a primarily dark blue design and using a bright yellow trim really makes this top pop and stand out from the rest.
Add the popping colours to the understated cross design, which is made up of the mastiff logo, as an homage to the city's coat of arms dating back to the 13th century.
A modern take on a historical design has this kit feeling like a Shakespearean classic.
#3. AC Milan (Sponsor: Puma)
As reigning Scudetto champions, AC Milan will be rolling into this season with style as their 2022/23 kit is seemingly inspired by the look of the early 2000's as the Rossoneri (red and black) always come through with a stunning look and this one looks to be no different.
Along with the primary red and black stripes going down the body of the jersey, the sleeves also feature the Italian Tricolore (green, white and red) as this is a jersey steeped in Milanese and Italian culture.
Puma have also said that their "ULTRAWEAVE" technology has made this the lightest and most comfortable jersey they have ever designed.
With another design rooted in the club's heritage while also being set to inspire the next generation of Rossoneri fans, Puma have absolutely knocked this design out of the park.
#2. Salernitana (Sponsor: Zeus)
Salernitana survived last season in quite remarkable fashion as they took 18 points from their final 15 matches and with the recent trend in the Serie A for teams who have been languishing in the lower divisions for decades finally getting their chance to shine in the top flight and Salernitana are going to be playing with style.
This kit is a much more muted design as compared to some of the others on this list, and that's what makes it so sleek and beautiful. There is a real tightrope to walk when making sure a kit is not too overstated, but also not too plain and bland and Zeus has managed to refine this elegant design.
With just a simple maroon as the primary colour for the kit, but with the shades getting darker higher up on the chest and with the designer's logo on either sleeve popping in white gives the Salerno based club the second best jersey in Italy this year.
#1. Juventus (Sponsor: Adidas)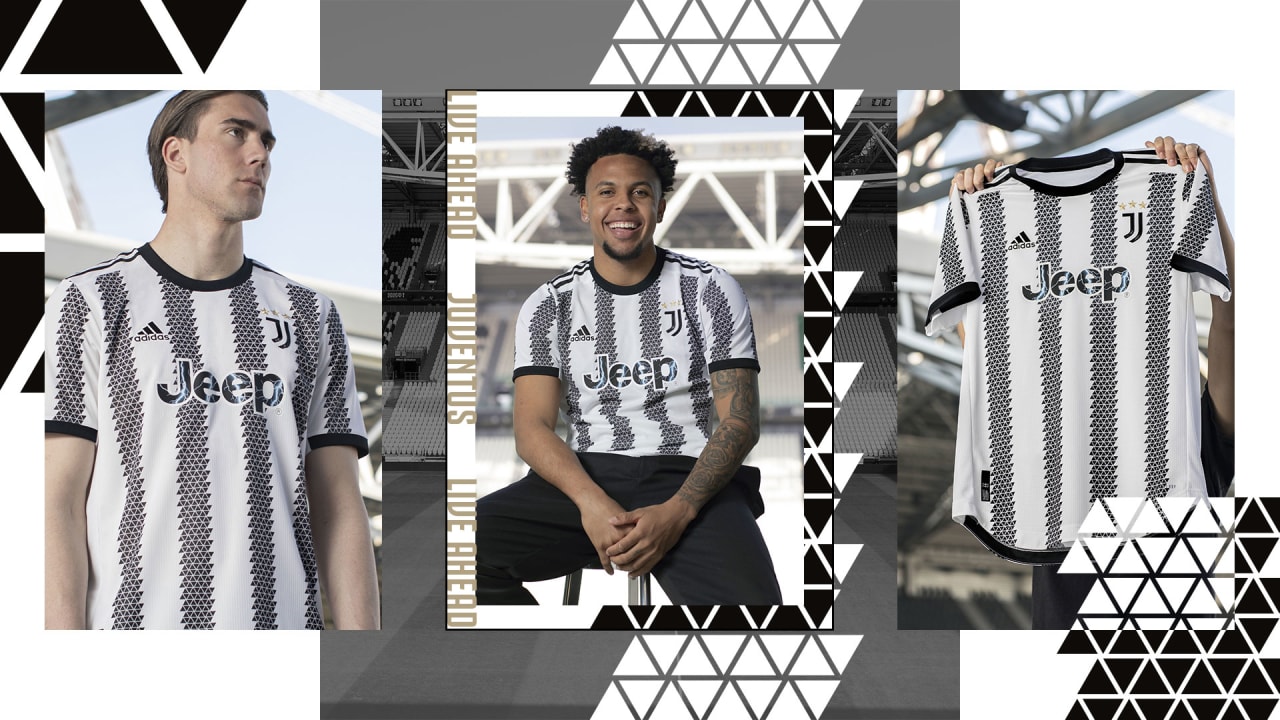 Although Juventus might not be in the position they've been accustomed to at the top of the Serie A over the past couple of seasons, as they will be looking to reclaim their throne at the top they will be doing it in style.
The Bianconeri always come in every season with a sleek design and you really cannot go wrong with their classic black and white stripe design, but Adidas has decided to mix it up a bit more this season and by going away from their typical solid black stripes and instead going for a triangle pattern instead has Juve feeling more futuristic than their Italian counterparts.
While I have a slight bias towards a more classic and vintage look, I will have to concede to say that this current iteration of Juventus kits is absolutely spectacular and with the lightning decal on the Jeep sponsorship makes this kit a modern work of art.
---
Also fans have access exclusively to One Soccer so you can watch the Canadian Premier League and the Canadian Men's National Team as they are looking to head into the 2022 Qatar World Cup on a high as they compete in their first World Cup since 1986.