Every new year, clubs bring out new kits that either impress, or depress. This season in the Premier League, there are a few kits that are standouts.
Please keep in mind that this article is subject to opinion.
Here is our top five list for the best away kits that will be worn by the EPL clubs this season!
5. Crystal Palace
Crystal Palace and their away kit embodies their club colors with a clean but innovative design. The white shirt is clean and the design of the red and blue paintbrush stripes coming down the middle is a fantastic look.
The sponsor also does not clash with the design given the clean white outline along the sponsor.
Palace also does a great job with the red and blue outline along the neck and around the arm sleeves.
4. Manchester City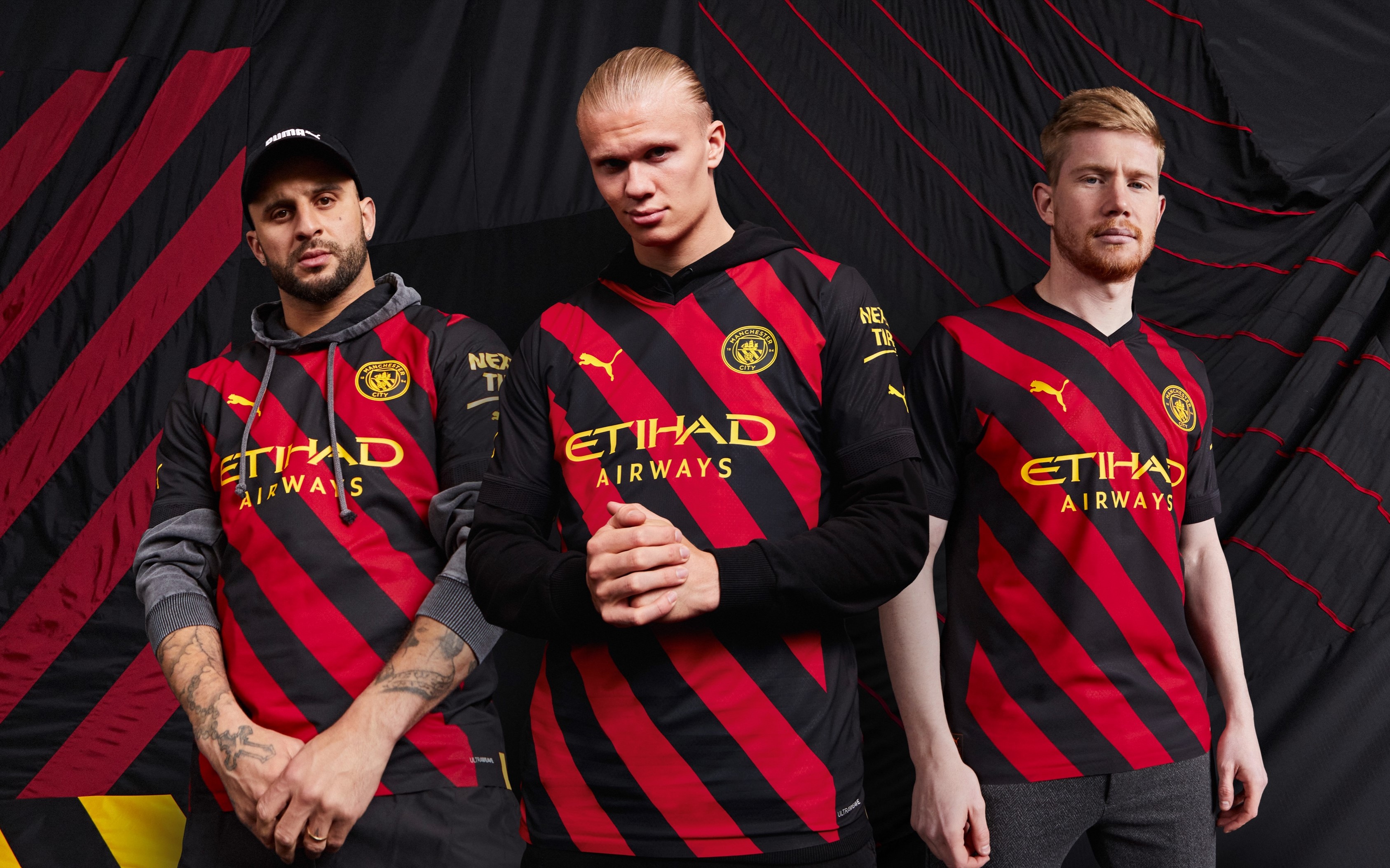 Coming in with one of the best away kit for the 2022/2023 season are the reigning Champions from last season.
The champions are wearing a classic red and black diagonal striped shirt reminiscent of the shirt that they wore back in the 2011/2012 season. Puma did an excellent job with this shirt and the nostalgia factor scores points as well.
3. Newcastle United
Newcastle's new away kit impresses with the royal blue and yellowish gold highlights. The contrasting colors makes the beautiful shirt pop.
The design on the sleeves and the dots surrounding the sponsor looks fantastic as well.
The final touch of highlighting the club badge in that gold color really makes this kit standout.
2. Manchester United
In second place we have the Red Devils. Though the team has struggled in recent years, their kits however have been stunning.
This year is no different as their clean away kit has a beautiful black pentagon shape surrounding the badge. The adidas stripes are colored in different colors which is something innovative and the neck collar and sleeves hold the same interesting pattern.
1. Arsenal
This season Arsenal have absolutely smashed it with their away kit. Easily going to be a favorite among all fans, even those who support rival clubs.
A clean blackout kit with a pinkish gold for the accents look fantastic. Additionally opting out of the current logo for only the cannon brings out a new look for the kit. This choice scores points for minimalism and doesn't take away from branding given the iconic look of the cannon itself.
Blackout kits have been the way to go and this perfectly contrasts the red and white home kit that is normally seen.
The Gunners will be one of the best looking teams away from home this season.
Looking forward to seeing these beautiful kits in action? Canadian fans can catch the English Premier League on fuboTV! Click here to sign up!