ANTHONY MARTIAL (MANCHESTER UNITED)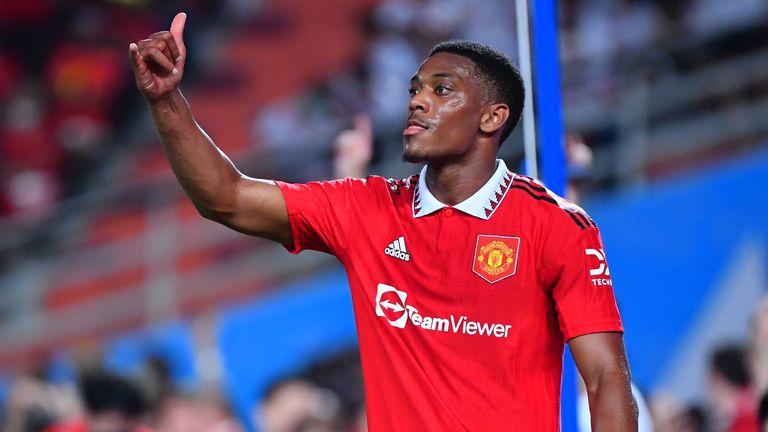 Anthony Martial was brought to Manchester United from AS Monaco in September 2015 as a highly touted young forward.
Martial was only 19 years old at the time when United splashed roughly $66 Million (€58 Million) for someone who only had 15 goals and 74 first team appearances to his name in France before United coughed up a quite large sum of cash.
The Frenchman impressed on his debut after scoring a lovely low driven shot against United rivals Liverpool and than netting twice more the following week against Southampton, Martial finished his debut campaign with 17 goals in all competitions (11 of them in the EPL), he would start to slump during his next couple of seasons.
SKIP TO 1:45 for "That" Goal
He would return back to form netting double digit goals again during the 2018/19 season with 10 and than follow that up with his most prolific season so far by scoring 17 in the Premier League.
Things would take a turn for the worst as Martial would experience various injuries that would keep him out of the squad for long spells and he would not be able to regain any of his old form following 2019 with him just netting four goals in the span of 18 months.
During the Winter of 2022, Martial would be sent on loan to Spanish side Sevilla where things would not fare any better for him as he would only make 12 appearances for a side challenging for their first La Liga trophy since 1946.
Despite stellar form to start the season the Andalusian side had a subpar second half of the season (coincidentally aligning with the arrival of Martial) and finishing fourth in La Liga and being dropped out of the Europa League by West Ham.
This past season couldn't have gone worse for Martial as he would only find the net once each for both United and Sevilla in a combined 23 appearances for each club.
Martial plays naturally through the middle as a center forward as he blends an array of pure pace, tricky footwork and lethal finishing, and has had plenty of comparisons to the legendary Thierry Henry, but in recent seasons he looks to have lost some of these capabilities.
Once great at spotting runs in behind defences or using his feet to give him space out on the wings before finding a teammate making a run in or taking a defender on, in recent years it seems that he has lost that confidence he once showed in his early 20's.
A current lack of confidence and a seemingly lazy attitude on the pitch has turned one of France and Manchester United's rising stars into a shell of what was expected of him.
At 26 years old and with a salary well north of $13 million, if he is unable to prove to new manager Erik Ten Hag that he could be a valuable asset in his system, this might be the year that United cut Martial loose.
DELE ALLI (EVERTON)
At one time Dele Alli was regarded as one of the best midfielders in the Premier League and in the World, but nearly five years later he has fallen out of favour with his former club and his current club and could be without a club if his form doesn't change soon.
Back in 2015, Spurs would sign the than 19 year old attacking midfielder from League One side MK Dons as he was in the middle of a stellar season which would see him play 39 times and net 16 goals and add another nine assists from attacking midfield.
Spurs would pick him up in February of that year and let him finish out the season on loan in League One before he was up full time in North London by the start of the following season.
Alli wouldn't disappoint in his first season scoring 10 times and adding another nine assists during his first full season in the Premier League and winning the PFA Young Player of the Year.
Relive Alli's Goal of the season Against Crystal Palace:
Things would only get better from there for the Englishman the next season as he would be named PFA's Young Player of the Year while also being included in the Team of the Year that season following a remarkable 18 goal and nine assist season which would see Spurs finish runners-up to Chelsea in the Prem that season.
He would not be able to achieve those types of numbers again over the next few seasons in London as his form would take a sharp downturn following the 2017/2018 season.
Alli managed to fall out of favour with Jose Mourinho, who replaced Mauricio Pochettino and was close to Alli as the Portuguese manager and the English midfielder would clash repeatedly as this would see Alli's numbers drop dramatically, and once current manager Antonio Conte would arrive back in England and take over from Mourinho in 2021, Alli would be left frozen out of the side.
2022 would mark the end of Dele Alli's time with Spurs as he would join Frank Lampard at a relegation-threatened Everton side on a reported free transfer, but would see rise in costs should Alli hit certain milestones in Merseyside.
At Everton last season he was still unable to resurrect that form that once made him one of the hottest commodities in World Football, as Everton scraped to a 16th place finish, their lowest performance in years.
Alli has shared longtime comparisons to English legend and current manager Frank Lampard as he was seemingly modelled in his image as a goalscoring midfielder, but Alli has a tendency to play farther forward than Lampard did during his playing days.
Under Pochettino, he was given much more attacking freedom and played just behind Harry Kane as a second striker, but under more defensively regimented coaches in Mourinho, Nuno Espirito Santo and finally Conte with Spurs he was forced into more of a role that didn't suit him.
Mix this in with a temperamental attitude, which frequently clashed with other players, managers and teammates and a reported overinflated ego has caused his career downfall.
If Alli wants to continue at the top level past the upcoming season, he will need to buy-in to the philosophy that Lampard will be preaching, while also keeping his head in check or he will be dropping down the football ladder sooner than many people thought when he burst on the scene as a 20-year-old.
NICOLAS PÉPÉ (ARSENAL)
After setting Ligue 1 alight following two seasons with LOSC Lille where he managed to score a staggering 22 goals and adding 11 assists during the 2018/19 season, Arsenal forked out a club record $88 million (€72 million) for the wide man.
During his time in France, Pépé spent his time as a wide winger as he tended to pick up the ball from a wide position before cutting in onto his left side for a shot or a pass into the box.
Once he hit English shores however, there was a grace period for him to adjust to the new league but he seemingly couldn't nail down a starting berth in former manager Unai Emery's side as the winger would be forced to a more central position, which wasn't a welcome switch for the Ivorian.
Add this to the fact that Pépé was a constant figure in the Lille team, as he started 37 of 38 games during his last season in France, he was being constantly subbed off during starts and being subbed on for 30 minutes or less he was unable to nail down constant game-time with the Gunners, which led to an underwhelming output of eight goals and 10 assists during his first season.
Coming in with such high expectations, and a hefty price tag to a team that were lacklustre couldn't have done much for his confidence, but he was able to improve during his second season in North London.
After netting 10 goals in 29 appearances and a following six goals and four assists during their Europa League run the following season it looked as if Pépé was going to breakout and finally prove his costly price tag.
Unfortunately with the sudden rise to prominence of the young Bukayo Saka and Gabriel Martinelli, Pépé would find that under current manager Mikael Arteta, minutes would be even harder to come by.
As a result Pépé would be stapled to the bench for large parts of the past season, especially following a tumultuous start to the Arsenal season which saw the club languishing near the bottom of the table for weeks before Arteta's decision to drop Pépé from the side saw a massive change in the team's form.
The winger would only manage one league goal last season as he looks to be far down the pecking order.
With one more season on his contract after this if he continues to struggle he might be looking for a new club within the year.
---
Do You Want to Keep Up to Date With These Three Players This Season? You Can Only Watch the 2022/23 Premier League Season in Canada with FuboTV Sign Up Now!