With the NHL's Eastern Conference Playoff teams all but wrapped up after the Washington Capitals clinched the final spot, we can start looking to the future as in what will surely be a fantastic postseason.
Lost in all the debate of which team will win the Stanley Cup are the players who are looking for their first, and potentially only, taste at glory.
The players that will be highlighted on this list are players who are nearing the ends of their NHL career as this run in the postseason could end up becoming their last chance to hoist the Cup.
Some of criteria taken into account for this list the players in questioned must have at least one of these factors when being taken into consideration: they must have at least 500 games of NHL experience, they must have at least played 10 years in the NHL, they must be past their 30th birthday, and finally they must be chasing for their first Stanley Cup. Some players on this list might not hit all of these criteria exactly, but they have checked at least one of these criteria to be considered.
With the Eastern Conference teams all set for the playoffs, we'll start with those teams first and when the West finally gets settled we'll have a look at those teams next.
Florida Panthers- Joe Thornton
Joe Thornton is one of the main reasons for the creation of this list. Thornton is currently in his age 42 season and after 24 seasons in the NHL spent with the San Jose Sharks, Boston Bruins, Toronto Maple Leafs and currently the Florida Panthers, Thornton has come close many times to add a Stanley Cup to his loaded resume but it has just never worked out for him.
Thornton's time in the NHL will always be looked on fondly for his dazzling passes and playmaking abilities and no doubt he will eventually end up in the Hockey Hall of Fame, but he might go down as one of the latest former great to retire without the biggest piece of hardware in the NHL.
Four All-Star nominations, 1,538 points in 1,710 games (including over 1000 points with the Sharks) and a Hart and Art Ross trophies in 2005-2006 are some of the the highlights of Thornton's NHL career but only one Cup Final appearance in 2016.
Whether Thornton has anything left in the tank to continue after this season will remain to be seen as many thought he would call it a career following first round exit with the Leafs in 2021, but with only 30 games played this season and nine points it is hard to imagine that many teams will vying for his services once this season finishes.
If this is Thornton's final hurrah it would be really something if the final memory the hockey world has of "Jumbo" is him hoisting the ever elusive Stanley Cup.
Honourable Mention: Claude Giroux
Giroux gets on this list if he is on any other team, but due to circumstances he has to settle for a honourable mention slot. Giroux came agonizingly close to lifting the Cup in Philly back in 2010, and with a quick release from Patrick Kane, one dynasty was born and the Flyers were left to try and chase those heights for the next 12 years.
Giroux was a former first round draft pick of the Flyers in 2006 and was named captain in 2013, Philadelphia was the only place Giroux called home in the NHL. After a deadline move to Florida, this could be Giroux's golden opportunity to finally get his ring.
While Giroux is only 34, and is still putting up very respectable numbers, this could potentially still be one of the last chances he has to win before Father Time eventually catches up to him.
Toronto Maple Leafs- Mark Giordano and Jason Spezza
There were rules for this list, but rules are meant to be broken on occasion, and much to the "delight" of Leaf haters everywhere, the rules are going to be bent in their favour.
Every NHL is stocked full of talent coming out of Ontario, and for the better part most of these players grew up as Leaf fans.
For Mark Giordano and Jason Spezza however, this could be seen as the fairytale ending to two of the most consistent players the NHL has seen over the past 20 years. Both Spezza and Giordano are in their age 38 seasons, but Spezza made his debut nearly three years before Giordano did.
Spezza was a former second overall pick of the Leafs cross-town rivals in the Ottawa Senators, and spent much of the prime of his career making Leaf fans wish he was drafted literally anywhere else. Spezza made the Senators of the early to late 2000's a force to be reckoned with and this culminated in a Stanley Cup Finals appearance in 2007 where they were dispatched by the Anaheim Ducks.
Spezza and the Senators were never able to reach those heights again as he headed to Dallas to try and recapture their glory years, but after five disappointing seasons in Texas he eventually made his way back home to join the Leafs ahead of the 2019-2020 season.
While Spezza is not quite the player he once was, he has found his way into the hearts of many Leaf fans as his heroics during Toronto's first round exit against the Habs were one bright spot in a series that many Leaf fans want to burn from their memories.
Mark Giordano on the other hand was one of the most steadying presences for the Calgary Flames for 15 years and took on the mantle of captain following the departure of Jerome Iginla in 2013, until he was left exposed by the Flames in the Seattle Kraken expansion draft. Giordano was named the first captain in Kraken history before he was moved at the trade deadline to the Leafs.
While Giordano might be one of the newest players in the blue and white, it would undoubtedly be a dream come true if he was able to finally lift the Cup in-front of his hometown crowd and alongside a whole host of Southern Ontario guys on the team it would truly be something to see.
Honourable Mention: Wayne Simmonds
With no disrespect to the "Wayne Train" he unfortunately had to get reduced to an honourable mention role, but his journey to the NHL and what he has accomplished in the 13 years he has been in the league is remarkable.
Simmonds was a prototypical power forward for most of his career and unfortunately due to a string of injuries in recent years his best days are far behind him, but he is another veteran of over 1,000 NHL games and over 500 points to his name, Wayne is still one of the toughest players in the league.
Another product of the factory of Southern Ontario NHL players, seeing Simmonds join the likes of Giordano and Spezza in hoisting the Cup this season would bring joy across Ontario.
Carolina Hurricanes- Derek Stepan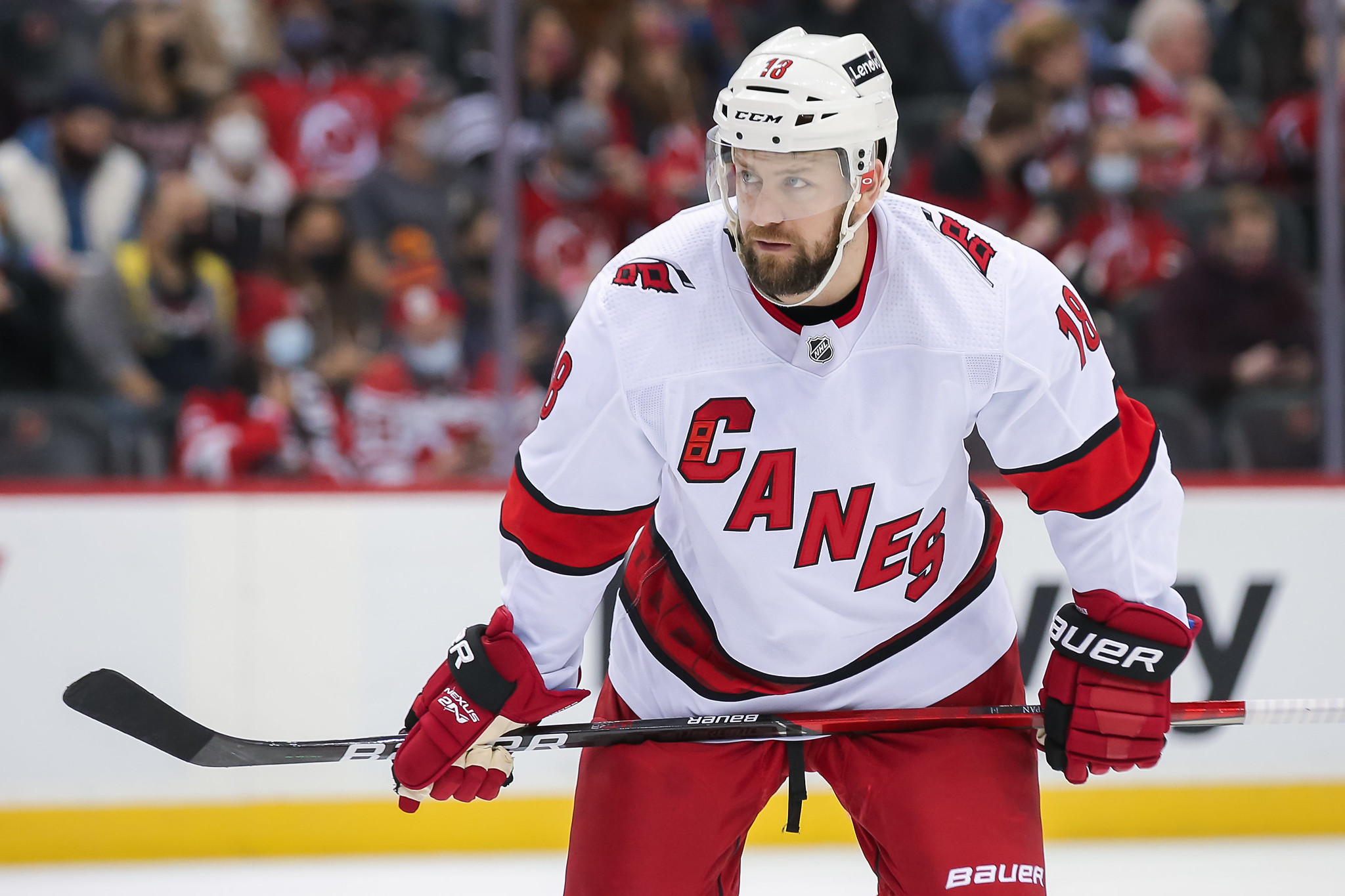 Derek Stepan first burst onto the NHL scene as a 20 year old with the New York Rangers in 2010-2011 with a 21 goal, 45 point campaign and has carved out a decent career hitting the 50 point mark six times in his first eight seasons.
Stepan has slowly started to regess following three seasons in Arizona and spending the 2021 season with the lowly Ottawa Senators, it has been some time since Stepan saw his first and only Cup run back in 2014 with the Rangers.
Stepan now has the chance to make his mark on the postseason after joining the Carolina Hurricanes as a free agent ahead of the 2021-2022 season as the Canes look to make another deep run in this upcoming postseason.
New York Rangers- Justin Braun
Justin Braun is a hard-hitting defenceman who has spent the past 12 seasons in the NHL playing for the Sharks and the Flyers. As a former seventh round pick of the Sharks in 2007, Braun has carved out a very quiet career as a veteran of close to 800 games and nearly 200 points, he was a factor in helping the Sharks make the 2016 Cup Finals before losing to the Penguins.
Braun has been a reliable defenceman for a better part of his career as he only misses a few games a season and provides a steadying presence on the backend.
The past couple of seasons spent with the Flyers and Sharks have seen him fallout of playoff contention but he now joins a loaded Rangers team full of firepower and his presence on the blueline could help be a deciding factor in any potential run they have.
Tampa Bay Lightning- Brian Elliott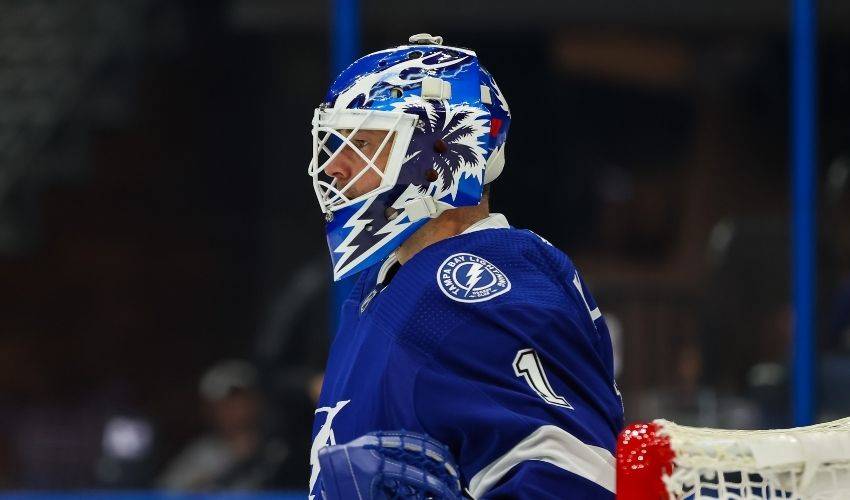 Tampa Bay had probably the slimmest pickings in terms of NHL veterans who are looking for their first Stanley Cup, had this article been written a few years ago there was probably a couple names that could have made this list, but after back to back Stanley Cup wins in 2020 and 2021, as well as very menial squad turnover the only option on the team was Brian Elliot.
Elliott was a former ninth round pick of the Ottawa Senators in 2003 and has been an NHL goaltender since 2007-2008, he has spent his 15 year career spread across the likes of Ottawa, St. Louis, Philadelphia, Colorado, Calgary and finally signing with the reigning back to back Cup Champions this past offseason.
The 37 year old has impressed in his limited role behind former Vezina winner Andrei Vasilevskiy and with a 10-3-3 record with a 2.35 GAA and a .915 Save percentage he has been a strong and consistent backup for the Russian.
While his performances might be limited come playoff time, having a player like Elliott behind Vasilevskiy can only be great insurance for the Lightning as they are going to have a very difficult time trying to win their third consecutive Stanley Cup, and hopefully we are treated to some vintage Brian Eliott performances once the Spring hits.
Boston Bruins- Nick Foligno
Nick Foligno joined a Boston Bruins team this past offseason with a core group of stars who have had multiple deep postseason runs, with a few players playing in their 2011 Stanley Cup victory and the rest of the team being filled up with young and hungry stars.
Foligno was the obvious choice to make this list. His 15 year NHL career started in Ottawa after the Sens took him with the 28th pick in 2006 where he spent five seasons before joining the Columbus Blue Jackets in 2012 and became captain in 2015 until he was shipped off to the Maple Leafs for their playoff run in 2021.
Foligno just passed the 1,000 game mark in the NHL this past season and is at 499 points in his career. At age 34, the peak of Nick Foligno is well in the past and his point production has taken a major dip, we might not be seeing much of Nick Foligno in the near future so this upcoming playoff run will have to be very important as it could be one of his last.
Pittsburgh Penguins- Brian Boyle
Brian Boyle has become a journeyman NHL forward for the past five years after lengthy spells with the Rangers and Lightning he has spent time with New Jersey, Toronto, Nashville and Florida before being picked up by the Pittsburgh Penguins early into the 2022 season and he has had one of his most productive seasons in recent years.
With 19 points in 63 games so far, he has filled out a decent role in the bottom of the Penguins lineup and his 6'6, 245lbs frame has been a welcome addition to the Penguins and his veteran presence will come in very handy.
Washington Capitals- Marcus Johansson
Marcus Johansson rejoined the Washington Capitals at the 2022 trade deadline, it was a reunion for a player who left the organization back in 2017 when he was traded to the New Jersey Devils. He missed his chance on the 2019 Capitals Stanley Cup run and now "MoJo" is back where it all started for him.
In his first stint with the Caps he put up 290 points in 501 games between 2010 and 2018, since then he suited up for the Devils, Bruins, Sabres, Wild and was selected by the Seattle Kraken in their expansion draft this past offseason. In the past five years he added 82 points across 204 games.
While MoJo won't be putting up 40-50 point seasons like his first stint in Washington, he is still a very valuable depth option as he could fill in a center or as a winger either on the Caps second or third lines.