AC Milan are currently in a tight Scudetto race in the Serie A, where they currently sit in second spot with 57 points through 27 matches and are level on points with Napoli who hold first place on goal difference.
The Serie A title charge is at one of its most open spots than it has been in many years, with only seven points separating the top four teams of Napoli, Milan, Inter and Juventus.
Stefano Pioli has his men playing at one of the highest levels the San Siro has seen since they lifted their last Scudetto in 2011, and has been a revelation since his arrival in October 2019.
On top of curating top talents in the squad with the rise of Rafael Leao, Brahim Diaz and Fikayo Tomori, Pioli also has done a wonderful job of bringing in more experienced players giving them a new lease at life for the Rossoneri.
This new lease at life could be seen in their strike partnership of Zlatan Ibrahimovic and Olivier Giroud.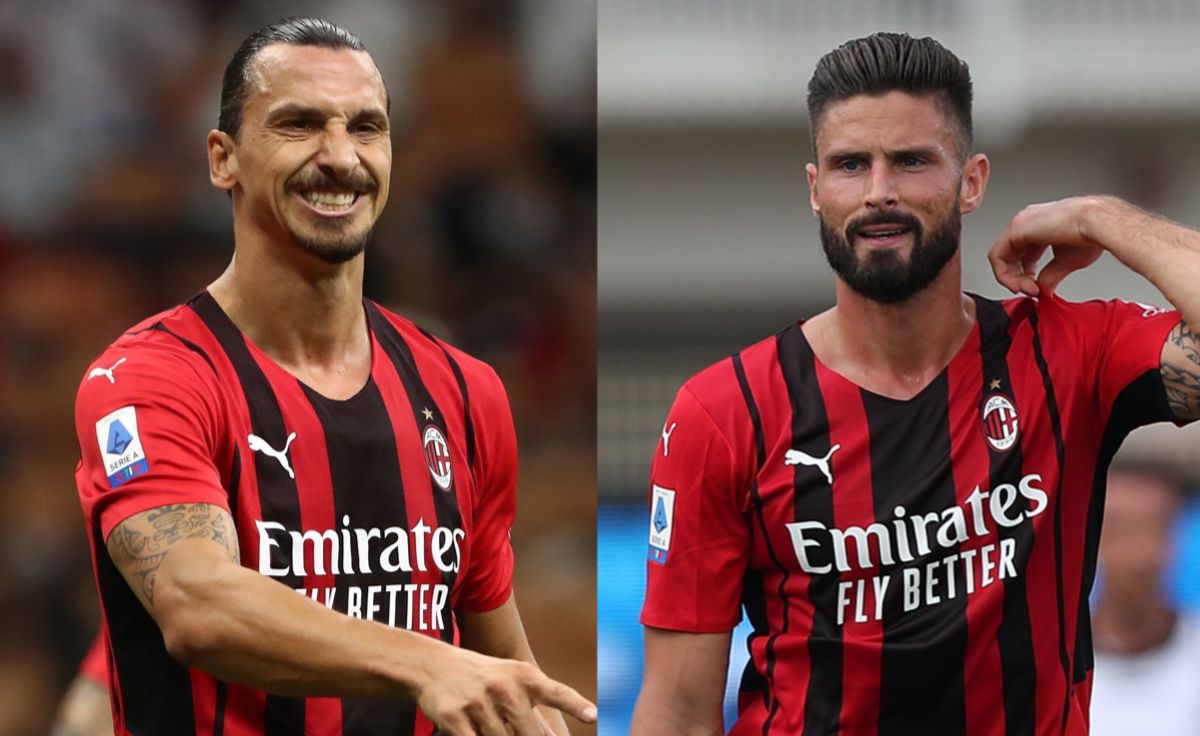 Ibrahimovic, turning 41 in October, is in his 22nd professional season, which has seen him play at various clubs across Europe and North America. Zlatan is in his second stint with Milan after joining on a free transfer in 2019 following the expiration of his contract with the Los Angeles Galaxy of the MLS. This marked the first time he had played in Europe since leaving Manchester United to go to America in 2018 and many were unsure if the phenom had what it took to compete in Europe anymore.
Following 10 Serie A goals in his return to Milan to end the 2019/20 season, Ibrahimovic followed that with a 15 goal return the following season in just 19 appearances. While he has missed 11 games this season so far due to different injury issues, Zlatan still has found the back of the net eight times in a limited role so far, providing some insurance for a relatively young Milan side.
Giroud on the other hand is one of the new signing the Rossoneri made over the summer after he was sold by Chelsea after close to 10 years in the Premier League, spending time with both Chelsea and their rivals Arsenal, where he picked up 255 Premier League appearances and 90 goals in that time.
After the 35-year old joined Milan for a fee of about $1.1 million, he has picked up his scoring where he left off in England.
With seven goals in 18 appearances so far Giroud is trying to return to a form that made him such a mercurial striker for Arsenal, before slightly fading away during his time with Chelsea.
While the two have only combined for 15 goals in the league, for the two strikers who are past their primes of their careers this type of return cannot be lamented. Both strikers will most likely end up with double digit league goals (which Giroud hasn't hit since 2017), Pioli and his team must be impressed with the type of guidance they are providing to the younger attackers on the team.
One noticeable shift has come with the play of young stars Rafael Leao and Brahim Diaz. Leao has found the net eight times already this season, which has surpassed his previous two campaigns where he netted six goals in back to back seasons, and with Diaz, who has spent most of the season playing as a number 10, is already well on his way to having his most productive season of his young career so far.
While the numbers for these players might not be as eye popping as other young talents across Europe, there is no doubt that by having two steadying presence up top it has made both of their games start to transition to a higher level, and Milan is now starting to reap the rewards.
While AC Milan might need to be on the search to find another central striker as both Giroud and Ibrahimovic are starting to show their age, it might be in the Rossoneri's best interest to keep the two on in advisor roles in the future.
The ways that both of these strikers have adapted their styles of play over the years, especially since their arrival in Milan, that could potentially be the start of a long managerial career for both of them.