As the Florida Panthers head into the All-Star Break sitting on top of league standings and racking up 191 goals in 46 games already, the Sun Cats have been absolutely lethal all year with the puck. 
Their big stars like Jonathan Huberdeau and Aleksander Barkov have been leading the way with Huberdeau leading the scoring charts with 63 points in 46 games and Barkov with 38 points, in only 33 games. The addition of a player like Sam Reinhart from Buffalo has already had its positive effect on the team as he is playing at a point per game pace with 43 in 43 games.
What is different with the Florida Panthers of this season is that they finally got it right with trades and signings of depth pieces. While the big stars continue to show up every game they also receive a massive boost by low cost acquisitions who have been having breakout years with the team.
Carter Verhaeghe
Carter Verhaeghe was a 3rd round pick by the Toronto Maple Leafs (of course) in 2013 where he spent a season split between the Marlies and the Niagara Ice Dogs of the OHL, before he was shipped to the New York Islanders in 2015 in the Michael Grabner trade. He spent 2 seasons in Long Island split between their AHL and ECHL affiliates before he was sent to the Tampa Bay Lightning in 2017.
Verhaeghe appeared in 52 games with the Lightning in the 2019-2020 shortened season before he signed in Free Agency with the Panthers for the '20-21 season, where he started his breakout.
The 6'2 center broke out with a career high 18 goals and 36 points that year and was a revelation for the team putting up 3 points in 6 playoff games that year. This year he has been even better, getting top 6 minutes with the team, and already posting a new career high of 37 points with only 45 games played.
Verhaeghe has a cap hit of only $1 million this year before his 3 year contract extension he signed during the Summer of 2021 kicks in, but his AAV of $4.16 million will look like an absolute steal if he keeps up his current pace.
Anthony
Duclair
Anthony Duclair has quite a journey of an NHL career so far. A former 3rd round pick by the New York Rangers in 2013 he spent his NHL career bouncing around with different teams. He has spent his time in 8 NHL seasons playing for the Rangers, Coyotes, Blackhawks, Blue Jackets, Senators and finally in Florida with the Panthers.
Duclair started off his career hot when he potted 20 goals and 44 points with the Arizona Coyotes, after being traded to the desert from New York at the 2015 trade deadline. He never reached those same heights again and after underwhelming in his next two years in Arizona he was shipped to the Blackhawks where he only put up 8 points in an injury filled year where he played 23 games.
Duclair signed with the Blue Jackets in the offseason where he struggled to fit with Head coach John Tortorella's system leaving him on the trade block where he was shipped off to Ottawa, and it was here on a struggling Senators team where he started to get back into his scoring ways.
After putting up 14 points in 21 games to finish the '18-'19 season he followed that up with a 40 point campaign the following year, in what turned out to be one of the few bright spots on a rebuilding Senators team.
Following his resurgence with the Senators, Duclair signed with the Panthers and has been a solid weapon for the team for a season and a half. He currently is on 34 points in 38 games, passing the 32 points he put up last season and is on pace for 73 points in 82 games, which would shatter his career high. With his 18 goals this year he needs 2 more to tie his career high as well.
The winger has gained massively playing on a line with superstars Barkov and Huberdeau, but he has not looked out of place playing alongside the two. With his $3 million cap hit for this season and the next two after this he has come in as a relatively cheap option, giving the team huge rewards in return.
Mason Marchment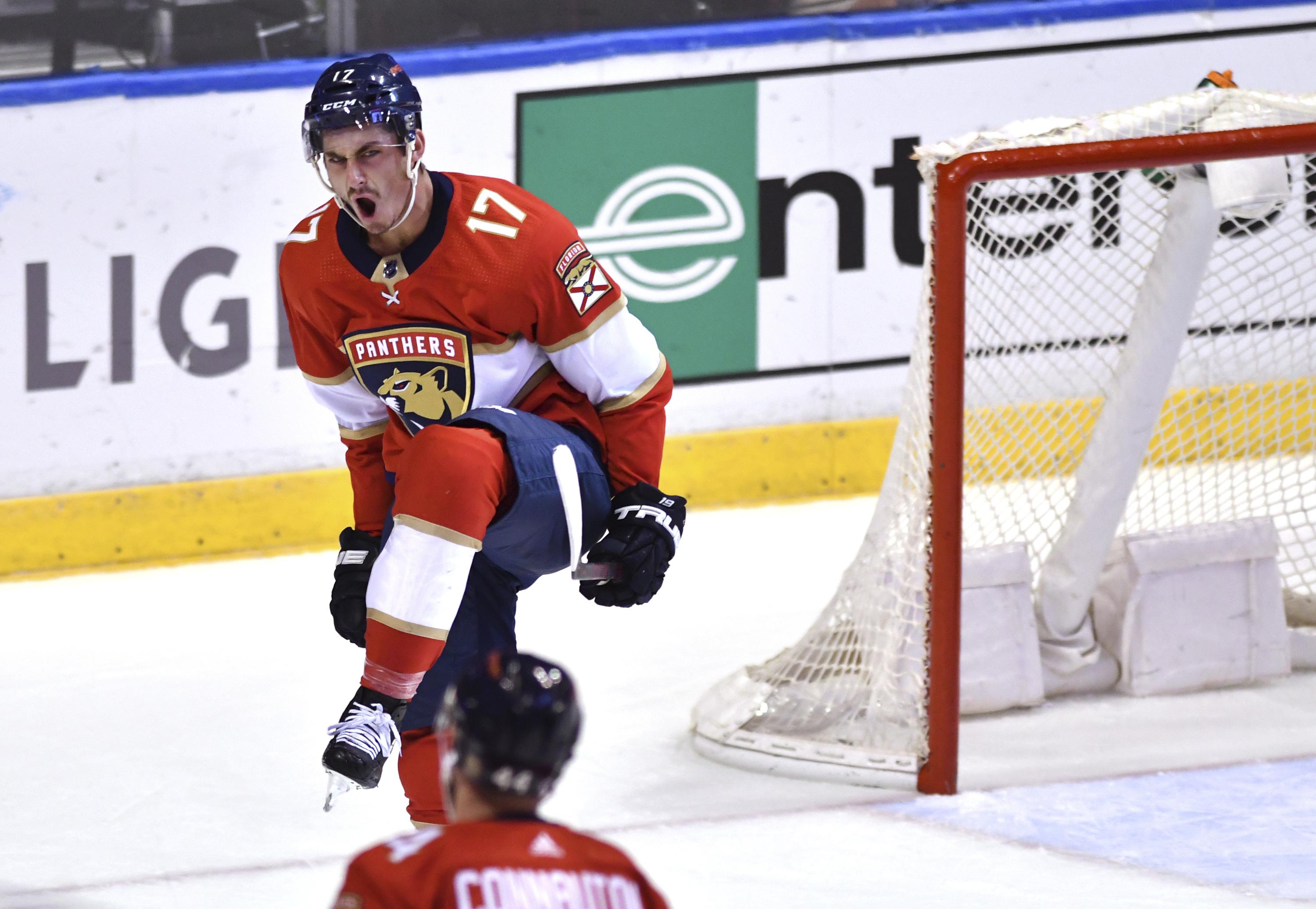 One of the reasons why this article is being written is the emergence of Mason Marchment on the Panthers 3rd line. Marchment had an absolutely stunning game on Monday in their 8-4 win against the Blue Jackets. Marchment put up 2 goals and added 4 assists, with 3 of them being primary assists. His 6 point night tied a franchise record.
Signing as an undrafted free agent with the Toronto Marlies in 2015, he spent 5 years with the organization playing only 4 games with the Leafs in 2019-2020 before being traded to Florida in February 2020 for Dennis Malgin.
In what at the time seemed like a minor deal to most fans, many people following the team questioned what Leafs GM Kyle Dubas was thinking by acquiring another diminutive winger, for a 6'4, 201 pound winger, when he probably should have tried to move for a defenceman. This trade has already backfired on the Leafs in pretty stunning fashion considering when the Leafs get burnt in trades it typically takes a few years for it to come through, in this case it has only taken 55 games to already see a winner.
This year Marchment has 23 points in 21 games (with 6 points coming in their last game to keep in consideration) and with that he is on a 90 point pace. That point production seems highly unlikely, but he might finish with 50+ points which for a 3rd line winger would be phenomenal value.
The only potential downside is that Marchment will be a UFA after this season and will definitely be looking to cash in on this productive season for the long term, so it might be a stretch for Florida to keep him because they are up against the cap.
For now, however, the Mason Marchment train is most likely going to continue for the rest of the season and he will be a player to keep an eye on going into Free Agency.
Sam Bennett
The Calgary Flames traded their former 4th overall pick to the Florida Panthers at last year's trade deadline for a 2nd round pick and a prospect and unless Emil Heineman turns into the second coming of Daniel Alfredsson, this trade looks horrific on Calgary's end.
In 36 games this season Bennett has already potted 21 goals which passed his career high of 18 in 2015-2016, on top of that he has 30 points this year, with his career high of 36 (also set in '15-'16) most likely going to be broken within the month Sam Bennett is thriving in his new role as the second line center for the Panthers.
Bennett has also found his spot on the Panthers second Power Play unit with his 5 PPG ranking second on the team, and just one behind Barkov for the team lead.
Over the offseason Bennett re-signed with the Panthers, keeping him in Sunrise for the next 3 seasons after this one, on a team friendly AAV of $4.425 million a year.
Honourable Mention: Anton Lundell
While it might not always be the most fair assessment to call rookies who are having astonishing breakout seasons a "revelation", it should also be noted the season that the former 12th overall pick in 2020 is having.
The young Finnish forward is second in rookie scoring with 32 points, and 6th in goals with 10 on the year, there might be an outside chance that Lundell makes a run for the Calder trophy this year. While it may seem like the trophy has been locked in a race between Trevor Zegras and Lucas Raymond, there are also other young players looking to put their names in the race, with Lundell potentially being the biggest threat to taking the trophy.